A picture is worth a thousand words! Virtual tours are an exciting way to attract the interest of your website clients. You can display the interior of your business, store or a special event. Virtual tours are a must for any real estate agent or broker, as they decrease the amount of "tire-kicking" and showings, leaving only the truly interested contacts. By including a virtual tour on your website, you'll attract more customers, gain their attention and see more repeated visits to your site. This means more profit for you!


Raw Panoramic
With the addition of a 360° Virtual Tour, your viewer and potential client will be able to view a location as if they were there onsite. Rotation, zoom in and out, controllable views, all portraying a panoramic site for the viewer who is in control. Show multiple locations in a drop-down menu and no plug-in required!
Virtual tours are captured by one of our professional designers. Because we do not take several images and stitch them together, there are no seams in the image and even action shots are possible. We also create images that allow views to be seen through interior windows. Many other virtual tour providers display a washed-out window in their images which is unrealistic and unprofessional.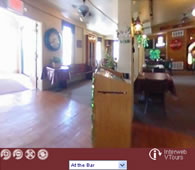 After 360 processing
After images are taken, we can enhance your tour to display information about the shot, such as room descriptions, business details, contact information, location directions, menus and more. Our professional virtual tours can be customized to fit your needs.